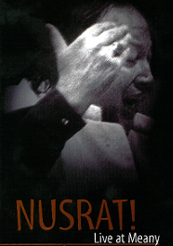 Type:


Other





Year:


1998





Time:


87 minutes





Produced by:


University of Washington





Language:


Arabic, Farsi and Urdu

"I do not sing to become famous or wealthy. All praise is to God that I lack nothing. But, when I sing, it's because I inherited this talent from my great heritage. I thank our ancestors many times." ŚNusrat



NOW AVAILABLE FOR THE
FIRST TIME ON DVD!

The highlight of Nusrat Fateh Ali Khan's residency in the Ethnomusicology Program at the University of Washington School of Music was this January 23, 1993 concert at Meany Theater.

This video illustrates his masterful use of hand and facial gestures to convey both meaning and to generate excitement and participation from the audience. It also captures the great master at work, leading his outstanding eight-man ensemble and elevating each song to a state of unparalleled musical and spiritual intoxication.

Digitally remastered to enhance both sound and picture, Nusrat! Live At Meany offers a rare opportunity to view the late master of qawwali at his finest.

This film is available with a Digital Site License (DSL), which allows colleges, universities, or libraries to encode, locally host, and stream the film to their community on a closed, password-protected system.

Rental Information
This film is available from AFD for public screenings and television broadcast. For information regarding rental rates and formats, please contact [email protected] for institutional/non-theatrical screenings, or [email protected] for theatrical, festival, television, or other bookings.