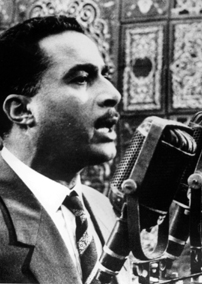 Type:


Feature Film





Director:


Mohamed Fadel





Year:


1996





Time:


142 minutes





Language:


Arabic with English subtitles

"As a slice of history filmed from an Arab point of view, the film is fascinating." —Deborah Young, Variety

"Four Stars: A lesson in history and good filmmaking." —The Star Tribune



"In thoroughly entertaining fashion, Nasser 56 gives an idea of what it means for a small Middle Eastern nation to dare to defy the world's superpowers, the USA and its Western allies in particular. That's exactly what Egypt's then-President Gamal Abdel Nasser did in July 1956, when he boldly orchestrated the nationalization of the Suez Canal, the construction of which had cost the lives of 120,000 Egyptians from a population of only 4 million a little more than a century earlier.

Director Mohamed Fadel and writer Mahfouz Abd Al Rahman, who shrewdly film in black and white so as to match vintage newsreel footage, present Nasser (an effectively understated Ahmad Zaki) as a modest, selfless paragon dedicated to his nation's self-determination and devoted to his family. They pull off the necessary trick of making suspenseful a pivotal incident, the outcome of which is part of modern world history."

-Kevin Thomas, Los Angeles Times

This film is available with a Digital Site License (DSL), which allows colleges, universities, or libraries to encode, locally host, and stream the film to their community on a closed, password-protected system.

Rental Information
This film is available from AFD for public screenings and television broadcast. For information regarding rental rates and formats, please contact [email protected] for institutional/non-theatrical screenings, or [email protected] for theatrical, festival, television, or other bookings.