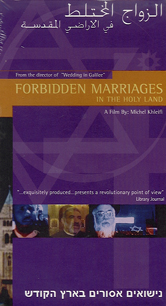 Type:


Documentary





Director:


Michel Khleifi





Year:


1995





Time:


66 minutes





Language:


Arabic and Hebrew with English subtitles

"With humor and pathos, Khleifi elicits wonderfully charming interviews from couples of different ages and backgrounds." - 1996 Human Rights Watch Film Festival



Exploring the lives and loves of eight mixed marriages from different generations and backgrounds, director Michel Khleifi uncovers the mutual intolerance of the Middle East's three monotheistic religions: Christianity, Islam, and Judaism.

Among the subjects in Forbidden Marriages In the Holy Land is a young Palestinian musician living with his Israeli musicologist girlfriend, a fiery Palestinian woman married to a Jew, a Jewish woman who converted to Islam to be with her husband in Gaza, and an African woman married to a "White" Palestinian. An intriguing expose of couples who, in a region scarred by conflict and catastrophe, chose love instead of hate.

This film is available with a Digital Site License (DSL), which allows colleges, universities, or libraries to encode, locally host, and stream the film to their community on a closed, password-protected system.

Rental Information
This film is available from AFD for public screenings and television broadcast. For information regarding rental rates and formats, please contact [email protected] for institutional/non-theatrical screenings, or [email protected] for theatrical, festival, television, or other bookings.