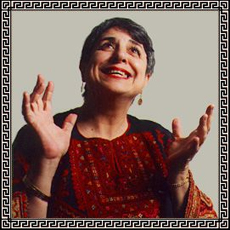 Type:


Documentary





Director:


Emily Mansur Shihadeh and Victoria Rue





Year:


1999





Time:


67 minutes





Language:


English

"She laughs and cries and the audience laughs and cries with her." - Nabella Shunnarah, Washington Report on Middle East Affairs



Emily Shihadeh's Grapes and Figs Are In Season is a nostalgic dream of tattered memories woven together by her unique blend of humor, storytelling and song.

Using her gift for intimate conversation with an audience, Emily paints a vivid picture of her youth in the village of Ramallah, which is now a part of the occupied West Bank. It is a story told with love and laughter, despite the loss of family and homeland.

Read the MetroActive review here and the full review from the Washington Report on Middle East Affairs can be found here.

This film is available with a Digital Site License (DSL), which allows colleges, universities, or libraries to encode, locally host, and stream the film to their community on a closed, password-protected system.

Rental Information
This film is available from AFD for public screenings and television broadcast. For information regarding rental rates and formats, please contact [email protected] for institutional/non-theatrical screenings, or [email protected] for theatrical, festival, television, or other bookings.