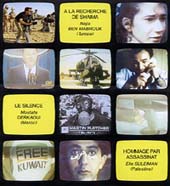 Type:


Feature Film





Director:


Borhane Alaouie, Nouri Bouzid, Mustapha Darkaoui, Nejia Ben Mabrouk, and Elia Suleiman





Year:


1991





Time:


109 minutes





Language:


Arabic with English subtitles

In the early 1990s, five leading Arab film directors were asked to create a short work that expressed their thoughts and feelings about the first Gulf War and its impact on Arab people, culture and intellectual thought. The Gulf War, What Next? is the revealing and rewarding feature-length collection of these five impressive short works.

Borhane Alaoui's Black Night Eclipse follows a Lebanese filmmaker (living in Paris) as he grapples with what thematic approach to take in making a film about the war.

Nouri Bouzid's It Is Sherherazade They're Killing is about an Arab family gathering in Tunis during Ramadan, torn apart over dissension about the heroes and victims of the war.

Mustapha Darkaoui's The Silence follows a film and theater production group as they are increasingly distracted from their current project by the desire to revisit Iraq and film the changes wrought in the decade since their last trip.

Nejia Ben Mabrouk's Research of Shaima follows the filmmaker as she travels to Baghdad in search of a girl whose face she has seen on television, only to find the inevitable personal tragedy caused by the destruction of war.

In Homage by Assassination from director Elia Suleiman (Divine Intervention), we find a Palestinian screenwriter in New York City who becomes increasingly distraught over news of the Gulf War as he struggles to finish a script.

This film is available with a Digital Site License (DSL), which allows colleges, universities, or libraries to encode, locally host, and stream the film to their community on a closed, password-protected system.

Rental Information
This film is available from AFD for public screenings and television broadcast. For information regarding rental rates and formats, please contact [email protected] for institutional/non-theatrical screenings, or [email protected] for theatrical, festival, television, or other bookings.