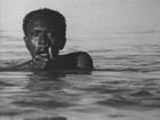 Type:


Short Film





Director:


Ibrahim Shaddad





Year:


1994





Time:


27 minutes





Language:


no dialogue

"Dramatic and powerful." - Shirin Ghareeb, Arabian Sights Film Festival



Sudanese filmmaker Ibrahim Shaddad provides a dramatic and powerful account of the trials and alienation of a Sudanese villager in a large city. Shot entirely without dialogue, the film's innovative use of sound helps tell the story of a shepherd who leaves his wife and herd to settle in a nearby town.

Since its premiere at the Alexandria Film Festival, INSAN has been shown in a number of festivals in the Middle East and Europe. This film is a prime example of experimental Arab cinema.

This film is available with a Digital Site License (DSL), which allows colleges, universities, or libraries to encode, locally host, and stream the film to their community on a closed, password-protected system.

Rental Information
This film is available from AFD for public screenings and television broadcast. For information regarding rental rates and formats, please contact [email protected] for institutional/non-theatrical screenings, or [email protected] for theatrical, festival, television, or other bookings.