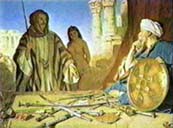 Type:


Documentary





Director:


Julian Samuel





Year:


1994





Time:


56 minutes





Language:


English and French with English subtitles

Through interviews with Homi Bhabha (Nation and Narration); Chris Giannou (A Doctor's Story of Life and Death In Beirut); Thierry Hentsch (Imagining the Middle East) and Rana Kabbani (Letter to Christendom), this second part of SamueL's video trilogy explores how Europe became defined in opposition to the East.

With Europe's last Muslim fortress, the Alhambra, as a backdrop, the effects that both political and imaginary frontiers have had on contemporary European and Eastern viewpoints are examined.

This film is available with a Digital Site License (DSL), which allows colleges, universities, or libraries to encode, locally host, and stream the film to their community on a closed, password-protected system.

Rental Information
This film is available from AFD for public screenings and television broadcast. For information regarding rental rates and formats, please contact [email protected] for institutional/non-theatrical screenings, or [email protected] for theatrical, festival, television, or other bookings.