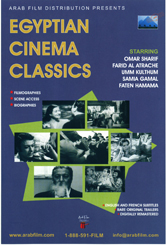 Type:


Feature Film





Director:


Various





Year:


1947-1971





Time:


Five Film Collection

From the strikingly handsome Omar Sharif to the legendary diva Umm Kulthum, Arab Film Distribution is proud to offer an unparalleled look at the giants of the Egyptian screen. Representing one of the world's oldest and most prolific film industries, this unique retrospective features previously unavailable titles steeped in the vibrant literary and musical traditions of the Arab World. Film lovers will delight in these fully remastered productions from the golden years of the "Hollywood on the Nile."

5 Film Collection includes:

ADRIFT ON THE NILE - Don't miss this star-studded masterpiece from director Hussein Kamal, based on the controversial novel by Nobel Laureate Naguib Mahfouz. go to Adrift on the Nile item page

AFRITA HANEM - Legendary cinematic couple Farid Al Atrache and Samia Gamal star in this musical comedy directed by Henri Barakat.go to Afrita Hanem item page

FATMA - Umm Kulthum stars in this classic romantic melodrama that features nine of her most famous songs.go to Fatma item page

A MAN IN OUR HOUSE - This political thriller stars Omar Sharif in one of his most memorable roles, and is based on the famous novel by Ihsan Abdel Qoddous.go to A Man in Our House item page

THE NIGHTINGALE'S PRAYER - Starring the first lady of the Arab silver screen, Faten Hamama, this classic tale of love and revenge was directed by film legend Henri Barakat.go to The Nightingale's Prayer item page

Egyptian Cinema Classics are also available individually.

DVD Special Features

Digitally Remastered Picture and Sound
English and French Subtitles
Scene Access
Rare Original Trailer
Filmographies

This film is available with a Digital Site License (DSL), which allows colleges, universities, or libraries to encode, locally host, and stream the film to their community on a closed, password-protected system.

Rental Information
This film is available from AFD for public screenings and television broadcast. For information regarding rental rates and formats, please contact

[email protected]

for institutional/non-theatrical screenings, or

[email protected]

for theatrical, festival, television, or other bookings.