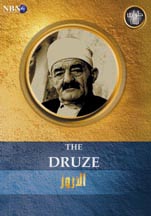 Type:


Documentary





Director:


Mohammed Abou Feleh





Year:


2003





Time:


210 minutes





Produced by:


Amer Fawaz, The National Broadcasting Company, Kasem Soueid





Language:


Arabic with English or French subtitles

Compared to the other religions of Lebanon, the Druze, who originated in Egypt and settled in Syria, Palestine and the mountains of Lebanon, have gone relatively unnoticed. They are members of a monotheistic Muslim sect that follows the teachings of Al-Hakim (985-1021), a Fatimid Caliph. Like most religious communities in the Middle East, the Lebanese Druze have suffered the tribulations of political strife and foreign conquest. In spite of this, the Druze have preserved their traditions and religious beliefs, written between the years 1017 and 1043, for nearly a thousand years. Using rare footage, gripping interviews and reliable historical documents, this fascinating documentary presents a vivid portrait of this little-known community.

Also Available: THE MARONITES

This film is available with a Digital Site License (DSL), which allows colleges, universities, or libraries to encode, locally host, and stream the film to their community on a closed, password-protected system.

Rental Information
This film is available from AFD for public screenings and television broadcast. For information regarding rental rates and formats, please contact [email protected] for institutional/non-theatrical screenings, or [email protected]abfilm.com for theatrical, festival, television, or other bookings.