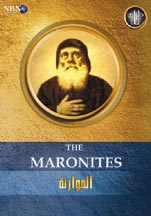 Type:


Documentary





Director:


Mohammed Abou Feleh





Year:


2003





Time:


275 minutes on 2 DVDs





Produced by:


Amer Fawaz, The National Broadcasting Company, Kasem Soueid





Language:


Arabic with English or French subtitles

Constituting the largest Catholic Christian group in the Middle East, the Maronites of Lebanon are the devout followers of Saint Maron (d. 410) of Antioch. The Maronites were particularly influential in the creation of the modern state of Lebanon and its independence from the French in 1948. Despite various instances of oppression and persecution throughout their history, the Maronites have managed to remain a dominant force in Lebanese political and cultural life. Using rare footage and insightful interviews, this absorbing documentary traces the history of this ancient community to modern day Lebanon, capturing its substantial contribution to religious and cultural diversity in the Middle East.

Also Available: THE DRUZE

This film is available with a Digital Site License (DSL), which allows colleges, universities, or libraries to encode, locally host, and stream the film to their community on a closed, password-protected system.

Rental Information
This film is available from AFD for public screenings and television broadcast. For information regarding rental rates and formats, please contact [email protected] for institutional/non-theatrical screenings, or [email protected] for theatrical, festival, television, or other bookings.