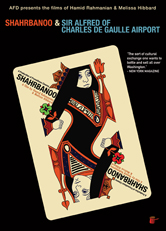 Type:


Documentary





Director:


Hamid Rahmanian, Melissa Hibbard





Year:


2002/2001





Time:


87 minutes





Produced by:


Melissa Hibbard





Edited by:


Hamid Rahmanian





Language:


English & Farsi with English subtitles

"Both films are beautifully shot, crisply edited, and genuinely provocative without ever becoming preachy. Highly recommended."
- P. Hall, Video Librarian



SHAHRBANOO

One of the most popular films on Iran to air on PBS!

The encounter of an American woman with a super-conservative Iranian family living in one of the poorest neighborhoods of Tehran was surely not an accident waiting to happen. At the center of the story is Melissa, an American woman who visits her new husband's family at their home in Tehran. There, she is befriended by Shahrbanoo, who, unbeknownst to her own family, has been moonlighting as Melissa's mother-in-law's housekeeper for more than a quarter of a century. Shahrbanoo invites Melissa (and her husband, with his ever-present camera in tow) to a family gathering where she is treated to an intense cultural exchange about subjects ranging from women's place in society to American foreign policy. But this is not a movie about politics. Rather, it's an alternatively hilarious, harrowing and heartrending testimony to the hidden ties that connect us across vast cultural gulfs.

"The sort of cultural exchange one wants to bottle and sell all over Washington."
- New York Magazine
For Institutional DVD purchase: Click Here

SIR ALFRED OF CHARLES DE GAULLE AIRPORT

See the REAL story that inspired The Terminal by Steven Spielberg.

Mehran Karemi Nasseri, who now goes by the name Sir Alfred, has been living in the Charles de Gaulle Airport in Paris for the past twelve years. Dubbed "the strangest case in immigration history," Sir Alfred has been waiting for the document that will allow him to leave France. Unlike the story that has been told in the world press of a man trapped in the underground terminals of an airport, this thoughtful documentary examines the life of a man whose only aspiration is to be somebody else.

Sir Alfred of Charles de Gaulle Airport explores the nature of personal identity in a globalized world. Shot in an off-the-cuff style it. . . approaches [the subject] as a metaphor for the state in which all immigrants exist, trapped between two countries and forever locked in transit."
- L.A. Weekly
For Institutional DVD purchase: Click Here

Rental Information
This film is available from AFD for public screenings and television broadcast. For information regarding rental rates and formats, please contact [email protected] for institutional/non-theatrical screenings, or [email protected] for theatrical, festival, television, or other bookings.