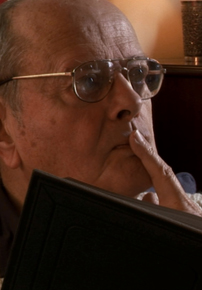 Type:


Documentary





Director:


Nacer Khemir





Year:


2010





Time:


61





Produced by:


Yann Brolli





Edited by:


Adrien Pierre





Language:


In French with English Subtitles

"In a way that few other have managed to achieve, Miquel has written brilliantly and extensively, both as a scientist and a poet about Arabic Literature and medieval Islamic society."
— George Sabagh, University of California



*****************************************************
Part of a Journey to the Heart of Arab Culture
with Three New Films by Nacer Khemir

Language: André Miquel: An Encounter with the Arabic Language
Imagination: Scheherazade: Words Against Death
Faith: Looking for Muhyiddin
*****************************************************

There are men who bring shorelines closer with their work, André Miquel is one of them. Punctuated by classical Arabic poetry set to music, André Miquel: An Encounter with The Arabic Language is both a tribute to the man and the object of his passion: The Arabic Language. The celebrated translator of "One Thousand and One Nights" to French, speaks about what sparked his interest as a young man from the Languedoc region of France in the culture of the Arab world. He also elaborates on the function of languages, the challenges and pleasures of translation from Arabic, his French upbringing and growing old. What transpires is an inspiring meditation on life and culture and the need for deeper communication between peoples.

Watch the Trailer:


This film is available with a Digital Site License (DSL), which allows colleges, universities, or libraries to encode, locally host, and stream the film to their community on a closed, password-protected system.

Rental Information
This film is available from AFD for public screenings and television broadcast. For information regarding rental rates and formats, please contact [email protected] for institutional/non-theatrical screenings, or [email protected] for theatrical, festival, television, or other bookings.