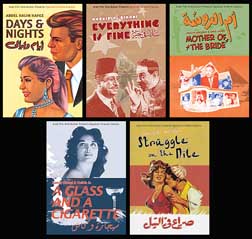 Type:


Feature Film





Director:


Henri Barakat, Naizi Mostafa, Atef Salem





Year:


1937 - 1963





Time:


534 minutes [5 film collection]

From the strikingly handsome Omar Sharif to the legendary Samia Gamal, Arab Film Distribution is proud to offer a second unparalleled look at the giants of the Egyptian screen. Representing one of the world's oldest and most prolific film industries, this second collection of unique titles is steeped in the vibrant literary and musical traditions of the Arab World. Film lovers will delight in these fully remastered productions from the golden years of the "Hollywood on the Nile."

5 Film Collection includes:

DAYS AND NIGHTS - This romantic musical-drama from director Henri Barakat features legendary Egyptian singer Abdel Halim Hafez in one of his earliest film roles.
go to Days and Nights item page

EVERYTHING IS FINE - One of the greatest Egyptian comedies of all time stars theatre legend Naguib El Rihany as a humble office clerk whose routine bank-deposit errand quickly evolves into the adventure of a lifetime.
go to Everything Is Fine item page

A GLASS AND A CIGARETTE - A captivating classic from the golden age of Egyptian cinema. A whirlwind melodrama, the film features some of the era's brightest stars, including the illustrious Samia Gamal & Dalida.
go to A Glass and a Cigarette item page

MOTHER OF THE BRIDE - This comedy classic stars Tahiya Karioka and Emad Hamdi as overworked parents who get little relief from the demands of their seven children as they prepare for their eldest daughter's wedding.
go to Mother of the Bride item page

STRUGGLE ON THE NILE - Three years before LAWRENCE OF ARABIA made him an international sensation, dashing Egyptian actor Omar Sharif starred in this wonderful masterpiece of Egyptian cinema that has been virtually unseen in the US since its release in 1959.
go to Struggle on the Nile item page

Egyptian Cinema Classics are also available individually.

DVD Special Features

Digitally Remastered Picture and Sound
English and French Subtitles
Scene Access
Rare Original Trailer
Filmographies

This film is available with a Digital Site License (DSL), which allows colleges, universities, or libraries to encode, locally host, and stream the film to their community on a closed, password-protected system.

Rental Information
This film is available from AFD for public screenings and television broadcast. For information regarding rental rates and formats, please contact

[email protected]

for institutional/non-theatrical screenings, or

[email protected]

for theatrical, festival, television, or other bookings.